Worship Center is excited to announce that it has launched New Schedules in myWC! New Schedules is an improved way to manage serving teams and serving schedules, including finding replacements and swapping with other team members, text and email reminders, and more!
Notifications
myWC Schedules can send serving reminders automatically. These notifications will be sent by both email and text. To receive these notifications, remember to update your contact info to include your email address, mobile number, AND your mobile carrier.
Image: Example of a reminder notification email
View Your Schedule
To view your serving schedule, log in to myWC and click on the Serve button on the left sidebar. You can also click the View Schedule button in your reminder notification. This will open a new tab in a "logged out" state -- meaning you are viewing a page that has your info but is outside of myWC for convenience.
Team members are added to each schedule as "Accepted." So, click on Accepted Requests to see the dates you are scheduled for, and click on any date to view the schedule details.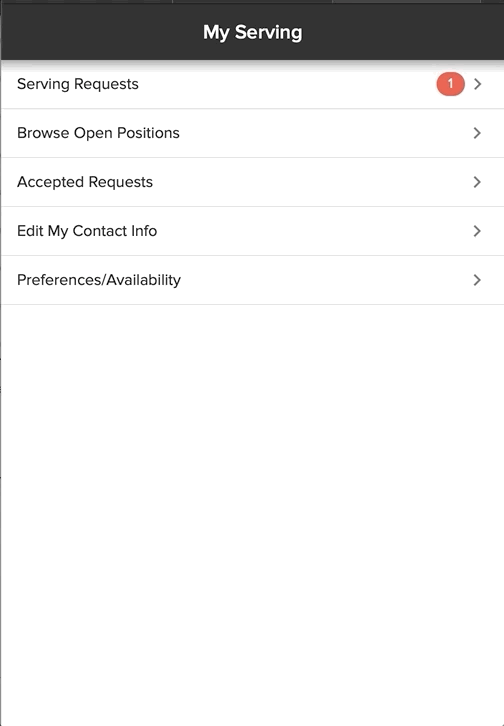 Image: View your schedule
Swapping and Finding a Replacement
myWC Schedules offers two ways to find someone to replace you when you can't serve during a scheduled time slot.
Finding a Replacement: To find a replacement for your serving time, click on Serve in your My Serving menu, then on Accepted Requests. Click on the date you need a replacement, then Find a Replacement. If you'd like to select or see the list of volunteers from your team who will receive the replacement request email, click on Selected Volunteers.
Use the default text or delete it to add your own in the text body area. When done, click Send Message to send your email.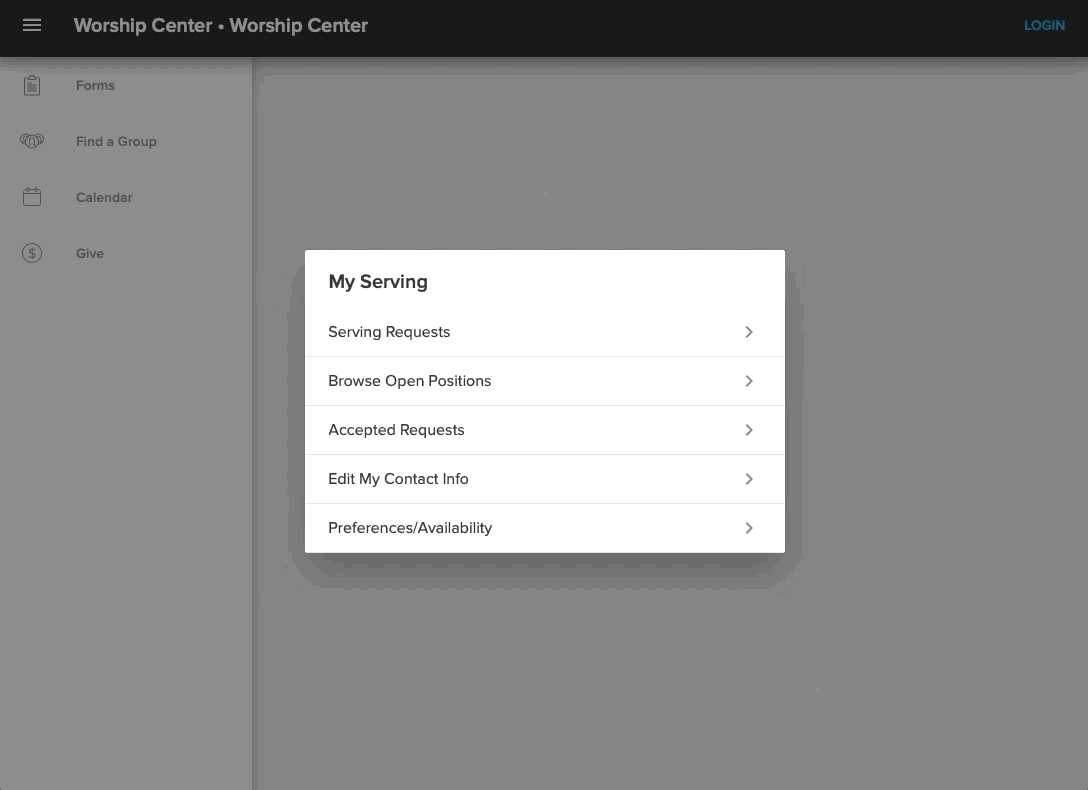 Image: How to find a replacement
Swap With Someone: To swap serving dates with someone, click on Serve in your My Serving menu, then on Accepted Requests. Click on the date you need a swap for, then click Swap With Someone.
The next view will show all the alternative dates you can potentially swap for. Click on the date you think you could serve to view the complete serving times.
Click Continue to see names of people serving on that date you can swap with. You can limit who receives the request by unchecking names from the list, then click Continue. Type your email, then click Send Request.
Image: How to swap with someone
Accepting a Swap or Replacement Request
If someone needs a replacement or requests to swap with you, you will receive an email notification. If you are able to accept a swap or replacement request, click on the button in your email which will take you to the request. Or, you can log into myWC and click on Serve on the left sidebar to see the red indicator on the My Serving menu. Click on Serving Requests to view. Click on the appropriate response to accept or decline the request.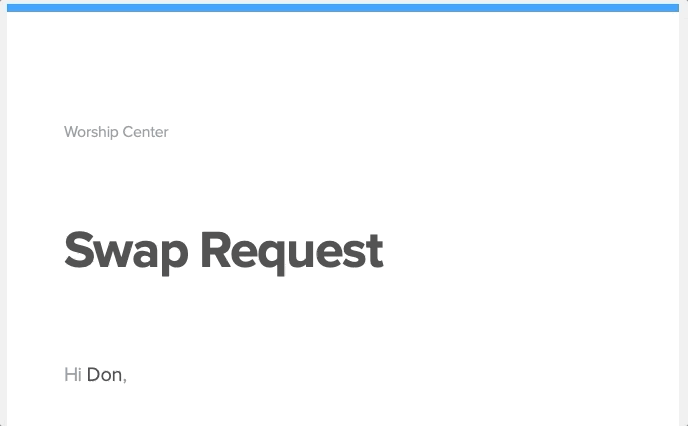 Image: Sample swap request email
Whether a person accepts or declines a request to swap or replace, the response will generate an email notification to both the person requesting the swap or replacement and the team leader.
Image: Accepting a swap or replacement request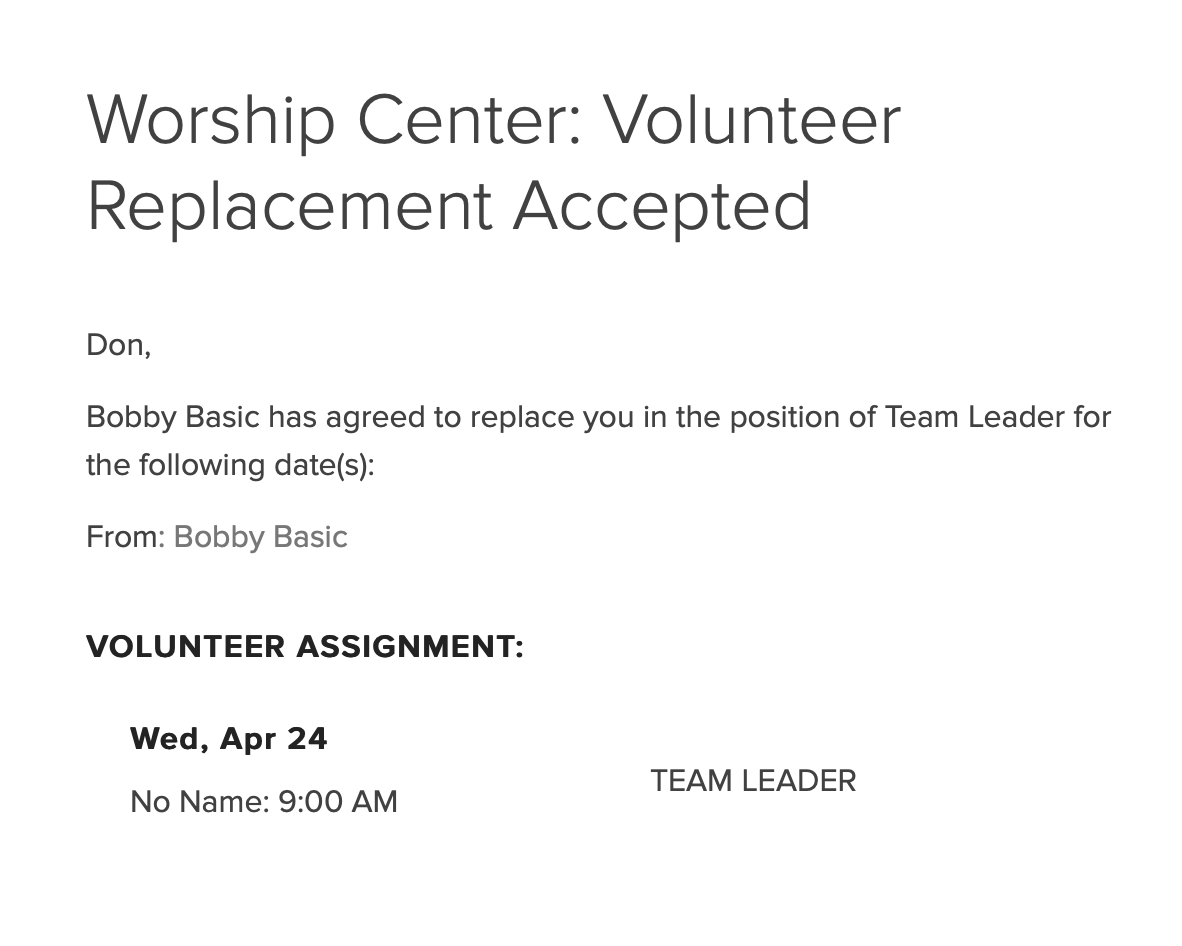 Image: Sample of an acceptance email notification
Viewing Open Opportunities
From an Email:
When a team has open serving opportunities, the team leader can choose to inform other team members. This will send team members a "New Serving Opportunities" notification email.
From this email, you can click View, which will open a page in your web browser where you can browse the open positions. If you are available and would like to serve, click Take Opportunity which will add you to that schedule in that position.
From Within myWC: At any time, you can browse any open positions available to you from your My Serving menu. You can see all open positions. If there are positions open, you are able to choose which you would like to fill.
Click Browse Open Positions to see all open positions that you can choose to serve. Click on Take Opportunity to fill the role and be added to the schedule.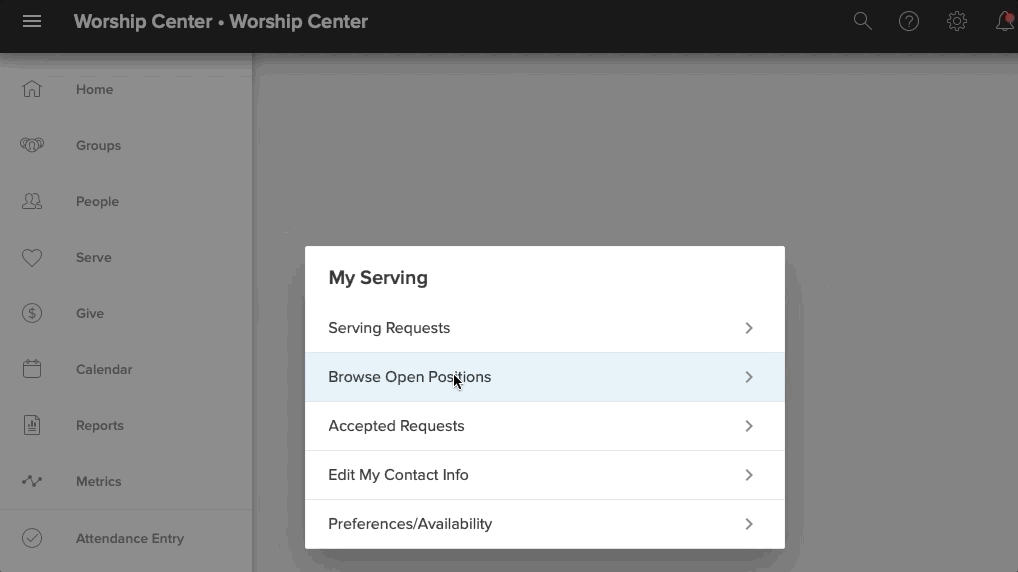 Image: Browse and Take Opportunity on open opportunities
Edit Your Contact Info
From your My Serving menu you can quickly edit some vital contact information like phone number, mobile carrier, or email.
Click Edit Contact Info and choose the information you would like to update. Click Save, and you're done!
Preference and Availability
From your My Serving menu you can choose and set your preferences, as well as when you would like to add "block out" dates to your calendar.
Setting Serving Preferences: Click Preferences/Availability, then the Preferences tab. Choose from the drop-down menu what some of your preferences are (As often as needed, # of weeks per month, Specific weeks).
Setting Blockout Dates: You can also set block out dates for when you're not able to serve. This will show a schedule conflict when the team leader attempts to schedule you on that day.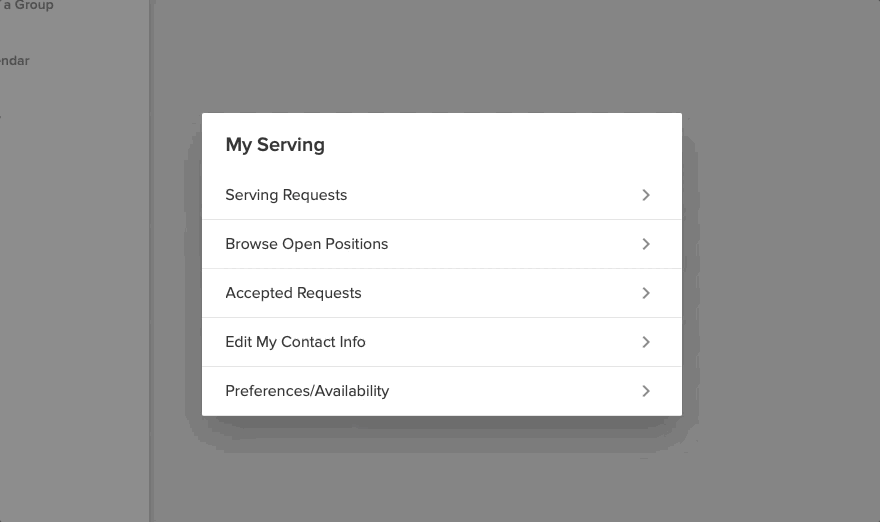 Image: Setting serving preferences and block-out dates
If you have any questions about using schedules, contact your team leader or the Team WC office.