How did you guys meet & how long have you been married?
We met at Messiah College in August of 2011, and we got married in July of 2016! Fun fact: Brian proposed to Jill when he didn't have a job, and she still said yes :)
How did you get connected at Worship Center & how long have you been here?
After getting married, we were "church shopping" for a while. For us, it is important for a church to have solid teaching, a great worship environment, and a community that is not hard to break into. Around August of 2018, we tried out Worship Center since we had some people we knew that attended. For us, Worship Center checked all the boxes. We love being able to serve on the worship team, develop a community of believers around us, and get spiritually fed along the way!
How did you come to know Jesus?
Brian- I came to know Jesus personally as a senior in high school. I met him through a traumatic life event, and the year after that event was some of the highest "highs" of my life with Jesus. Since then, I have learned over the past nine years that, as with any relationship, there is a high level of commitment and growth that needs to take place. Even through all the highs and lows, I know Jesus is the one that sets me free from myself and from my sin and darkness that is present in my life. Without him, I would be an empty shell, and I am thankful that he saved me.
Jill- I grew up in a Christian home but didn't come to really know Jesus until I was a freshman in high school. I tried to find my worth in everything else but him, and I purposely wanted to see if something else would make me happy without having Jesus in my life. I faced deep depression and hopelessness in my quest for fulfillment without God. I remember finally surrendering to God, and his kindness and softness touching my heart. I could finally rest knowing he loved me and sent Jesus to save me from all my sinful emptiness. To this day, I have never felt the same depth of emptiness and hopelessness as I did before I knew him.
Brian, you play in a band called The Evidence. Tell us a little bit about that!
We're an alternative/worship band based out of Harrisburg! We've been a band since 2012, and we have one EP, one full-length album, and another EP on the way. We are currently in the studio writing music, and we're pretty excited about the finished product. We are a five-piece, and each of us plays an integral role. We have been blessed to play festivals, retreats, conferences, and even worship nights at churches all over mostly north-eastern US. Check us out on Apple Music and Spotify, etc.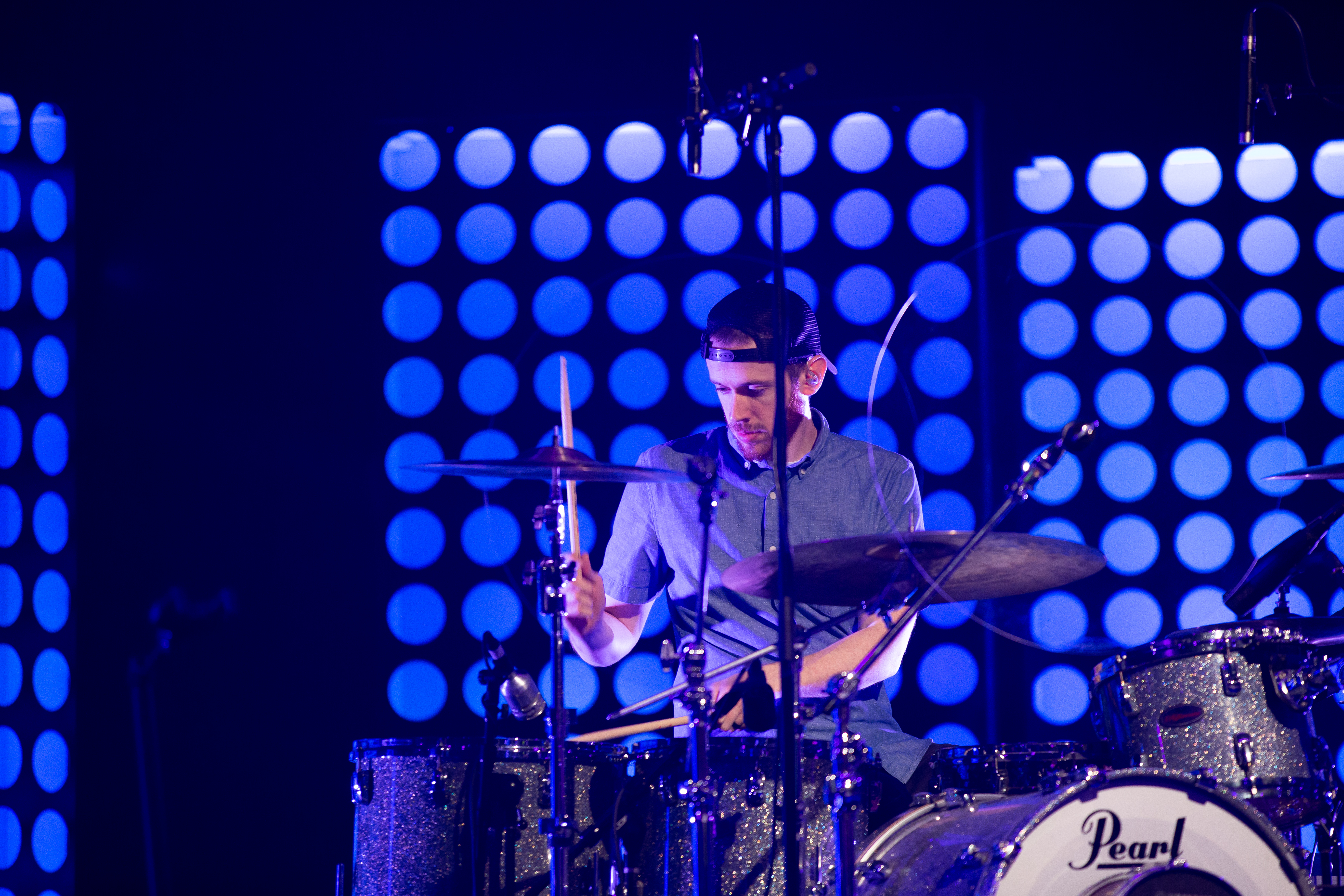 Brian, you play the drums and Jill, you're a singer. What's your favorite thing about serving on the worship team?
Brian- I love being able to sit back and observe what is going on, as generic as that sounds. As the drummer, you get to be behind everyone, and you set the tone and rhythm for where the song should go. There is a rhythm and cadence to worship music that is vital, and as a drummer, I love tapping into that and bringing power into the worship set. My mantra is "less is more, and when needed, play even less." It is tempting to try to showcase your talent and to do it all for the wrong reasons, but the best musicians are the musicians that you forget are there until the right moment.
I've done studio drumming, and I've done live drumming in different capacities over my life, but I will say that worship drumming is some of the most fulfilling and purposeful musical things for me.
Jill- Favorite part of singing on the worship team is harmonizing and being a support to the vocal leaders! I love it!!
You recently welcomed a baby girl into your family. What is your favorite part about becoming a family of three?
Brian - I tend to be the one to wake AJ up in the morning when she starts making noise. It's a little thing, but it's special for me since I am the first person she will see most days. I'll get in her face and smile and talk to her, and she will light up -- even as a 4-month-old! It makes even the most sleepy mornings so worth it. Also, I personally love watching Jill step into motherhood with confidence. She's a wonderful mom to AJ (Anna Jane) and knows so much about babies and their development that she really puts me at ease. Becoming a father was kind of overwhelming at first, but having Jill as my wife makes it so much easier and enjoyable. She's the best :)
Jill - Favorite part of being a family three is all the laughter and joy Anna brings to our lives! We are so thankful for her! It has brought challenges and joys being a family of three but we love it!!
What's your favorite musical genre and artist?
Brian - I listen to so much music, but surprisingly, I love hardcore/metalcore music. Top artists right now: Dance Gavin Dance, Periphery, The Parallel
Jill - Acoustic/Folk. I love Nickel Creek, James Taylor, Alison Krauss
Favorite Food?
Brian - I like a lot of buffalo chicken things.
Jill - Tacos :)