Classes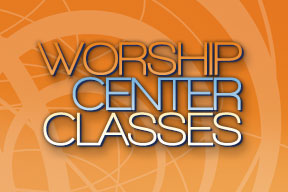 GROWING TOGETHER THROUGH CLASSES
Classes at Worship Center are a great resource to help you grow in your walk with the Lord, in your relationships, and in life. This program includes the Foundations and Life Application series of classes. Worship Center also offers a membership class called "Count Me In."
Foundations
Under our Foundations category of classes, we want to help you build a solid foundation on the basic truths of our Christian faith: The Word of God, Forgiveness, Finding God's Will, The Holy Spirit and His Work, Repentence, Healing, Redemption, and other topics are offered under this category of classes weekends and at other times throughout the year.

Times: Every Thursday, from 01/09/2014 to 03/13/2014, 7:00 PM - 8:30 PM Location: Worship Center
Life Application
We hope that through our Life Application category of classes, you will be able to discover how God's principles apply to your particular age, stage, and circumstances. A variety of topics, including parenting, living single, marriage, finances, and more, are offered weekends and at other times throughout the year.

Membership
Our membership class, "Count Me In," helps individuals explore foundational truths in God's Word and practical application at WC. It also helps you discover your specific gifts and abilities to find the best place for you to begin serving at WC. At the end of the session, you are given an opportunity to say, "Yes, count me in," committing to this local church and using your gifts to fulfill the WC mission.

Times: Every Sunday, from 01/05/2014 to 01/19/2014, 9:00 AM - 10:15 AM Location: Worship Center
Times: Sunday, January 26, 2014, 12:30 PM - 1:30 PM Location: Worship Center
Times: Every Saturday, from 03/01/2014 to 03/15/2014, 7:00 PM - 8:15 PM Location: Worship Center
Times: Sunday, April 27, 2014, 12:30 PM - 1:30 PM Location: Worship Center
Times: Every Sunday, from 06/01/2014 to 06/15/2014, 9:00 AM - 10:15 AM Location: Worship Center
Times: Sunday, July 27, 2014, 12:30 PM - 1:30 PM Location: Worship Center
Times: Every Saturday, from 08/02/2014 to 08/16/2014, 7:00 PM - 8:15 PM Location: Worship Center
Times: Every Sunday, from 10/05/2014 to 10/19/2014, 9:00 AM - 10:15 AM Location: Worship Center
Times: Sunday, October 26, 2014, 12:30 PM - 1:30 PM Location: Worship Center
Times: Every Saturday, from 11/01/2014 to 11/15/2014, 7:00 PM - 8:15 PM Location: Worship Center